What is ResurFX™?
ResurFX™ by Lumenis is a non-ablative laser resurfacing treatment for damaged or discoloured areas of the skin. Through the application of gentle, targeted treatment, the laser will stimulate your body's natural ability to heal by promoting the growth of new collagen and elastin in the deep layers of your skin. By invoking this natural healing process, you can reduce the appearance of wrinkles, spots, scars or blemishes in almost any area of the body.
What can it treat?
ResurFX™ can be used to reduce the appearance of:
Fine lines and wrinkles

Preorbital wrinkles (crows feet)

Sun and age spots

Hyper-pigmentation (discolouration)

Enlarged pores

Mild sagging or laxity

Scars, including acne scarring

Mild rosea (redness of the skin)

Deepened nasolabial fold (smile lines)

Stretch marks and striae
How does it work?
Unlike ablative lasers, which strip away the skin, ResurFX™ lasers use a pattern of pinpricks in the target area to stimulate regrowth in the deeper dermal layers. As a fractional treatment, it only targets a percentage of your skin cells, while preserving a healthy upper layer and protecting against infection and excess pain while you heal.
What is the treatment process?
We would first recommend a complimentary consultation with our friendly, professional laser technicians. You can book a consultation over the phone as you would any other procedure. ResurFX™ treatments are available at our Torrensville site, but you can book your initial consultation at any of our locations.
The treatment itself is fast, and most patients experience minimal discomfort. A typical facial treatment takes less than 15 minutes to complete, although your total appointment time may be longer to allow for a brief waiting period, consultation, properly protecting your skin and answering any questions you may have (up to 60 minutes). Patients receive topical numbing prior to treatment, and forced air cooling is used to make sure that patients are as comfortable as possible. ResurFX™ only requires one pass per treatment, reducing the strain on your skin.
You will be able to return to normal activities immediately, with some changes to your skincare regime. You should begin to see results a few weeks after your treatment, with further improvement over the next few months. Multiple treatments may be recommended for you to achieve your ideal result.
What does it feel like?
ResurFX™ is a quick and easy treatment. The use of numbing cream and air cooling is incorporated so that patients remain comfortable and relaxed during their procedure. With these preparations, most of the treatment is not felt. In some areas, the sensation of sparklers may be felt as the laser treatment occurs.
After your treatment, the area may retain a sensation of heat for 1-3 hours, and you may experience minor swelling, itching or discomfort. However, these feelings are temporary and should disappear within two to three days at a maximum. You should be able to return to normal activities with no downtime, if proper precautions are taken to care for your skin.
Is ResurFX
™

safe?

Yes. The ResurFX™ treatment is quick, and usually has minimal associated discomfort. The great advantage of this treatment is minimal downtime, and great safety, without the risks of more aggressive treatments that strip the skin. You will be provided with information about how to protect and care for your skin following treatment, and when this is followed, there should be minimal chance of infection, abnormal healing, or excess discomfort.
When will I see results?
You can expect to see the initial results of your first treatment in as little as 2-3 weeks. However, your target area will continue to improve as the body completes the healing process, with best results becoming visible in 8-12 weeks or a few months.
The following are images of real results from real patients.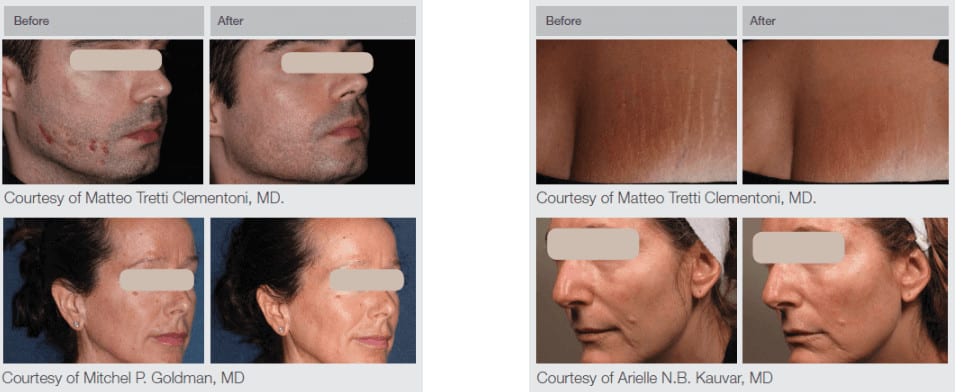 How much does ResurFX
™

cost?

ResurFX™ is not eligible for a Medicare rebate.  The total cost of treatments will depend on the areas to be treated and number of procedures, to be decided at your complimentary consultation before you book your treatment. When you have decided on your treatment plan, you can pay over the phone when you make your booking or pay in person when you arrive for your appointment. We accept cash, card, Eftpos and cheque, but do not accept AMEX.